Stop the TPP: Let's keep up the fight
On Tuesday, 13 Democrats sold out practically every progressive constituency – from environmentalists to labor to Internet freedom advocates – by voting to advance Fast Track authority for approving the Trans-Pacific Partnership (TPP) and other dangerous trade deals.
The 13 Democratic senators were: Michael Bennet (CO), Maria Cantwell (WA), Tom Carper (DE), Chris Coons (DE), Dianne Feinstein (CA), Heidi Heitkamp (ND), Tim Kaine (VA), Claire McCaskill (MO), Patty Murray (WA), Bill Nelson (FL), Jeanne Shaheen (NH), Ron Wyden (OR), and Mark Warner (VA).
Senator Ben Cardin voted no on Fast Track, but according to the Huffington Post he did so only after the 60th vote for cloture was cast, and appeared to be a back up "yes" ready to put the White House and Republicans over the top if there was a last minute defection.1
While Tuesday's cloture vote was the vote that really mattered, all 13 Democrats also voted to pass the Fast Track bill when it came up on Wednesday.
This is how the sausage is made in our nation's capitol. For some, the price of their vote was absurdly cheap. Washington Senators Maria Cantwell and Patty Murray voted for Fast Track a month ago after Mitch McConnell promised them a vote to reauthorize the Export-Import Bank,2 a government agency "that subsidizes foreign purchasers of US-made products."3 Boeing, based in Washington, claims they rely on the bank to sell their planes overseas. McConnell broke his promise, yet Cantwell and Murray voted yes anyway.
Winning the Fast Track fight was always going to be tough. We were challenging some of the most entrenched and powerful forces in Washington, D.C.: the Chamber of Commerce, Wall Street, Big Pharma, the entertainment industry, and nearly every big money interest in the Capitol. Combine their power with that of the White House and it was nearly an unstoppable force.
But our success along the way was remarkable. In contrast to the Senate (despite Minority Leader Harry Reid's aggressive opposition saying not only no but "hell no" on TPP), the Democrats in the House created a firewall against the TPP. The result could have been very different if the Democrats in the Senate showed the same courage and tactical smarts that progressives in House displayed.
To pass Fast Track through the Senate, McConnell merged it with a bill providing assistance for workers who lost their jobs due to trade deals known as Trade Adjustment Assistance (TAA). In the House of Representatives, Republicans did not have the votes to pass Fast Track if TAA was included because it was paid for by cutting Medicare. Instead they split the Senate bill in two sections. The first, Fast Track, they knew could pass with Republicans and approximately three dozen Democratic votes. But because both the Senate and House bills had to be reconciled with each other, a second bill containing TAA also needed to pass. Republicans thought the Democrats in the House would cave. But progressives led by Rosa DeLauro, Keith Ellison, and Raul Grijalva refused to play their cynical game, and voted down the TAA bill.
After failing to push Democrats to help them carry out their plan, the House of Representatives passed Fast Track with no TAA last week. Those 13 Democrats in the Senate could have held firm. Instead they passed Fast Track. It's because of this lack of fortitude on the part of those Senate Democrats Fast Track will now be signed into law. And while TAA ultimately passed yesterday, there's simply no excuse for these 13 Senate Democrats caving to Republicans on nothing but blind faith that Republicans would deliver a token concession in exchange for the devastating passage of TPA.4
Even presidential candidate Hillary Clinton, who would certainly want Fast Track authority to cut trade deals if she were president, came out and said that if she were in the Senate she would vote no on this Fast Track bill because it did not contain TAA.5 Clinton only made this pledge after more than 70,000 CREDO members demanded that she "immediately announce [her] public opposition to Fast Track trade authority and say no to secret trade deals like the Trans-Pacific Partnership."
Campaigns like our battle against the TPP and Fast Track are fights we'll continue to wage. The damage that trade treaties from NAFTA on forward have done to this country is too great to ignore. Just because congress passed Fast Track doesn't mean they have passed the TPP, and right now its passage through congress is "no sure deal."6
Will you keep fighting with us? Keep up the up fight to stop the TPP.
You don't want CREDO simply taking on the easy battles – ones where victory is guaranteed and compromise is inevitably part of the deal. We are here to take on the toughest fights and refuse to compromise when it truly matters. That is exactly the kind of fight Fast Track was.
For more than two years CREDO members have fought against Fast Track and the TPP. You've signed more than 1.2 million petitions and made more than 40,000 calls to your Representatives and Senators, including 15,000 to Democratic leadership offices. Incredibly, with a little more than 24 hours notice, 200 CREDO activists joined a protest outside of Minority Leader Nancy Pelosi's San Francisco office before the house vote.
Thank you.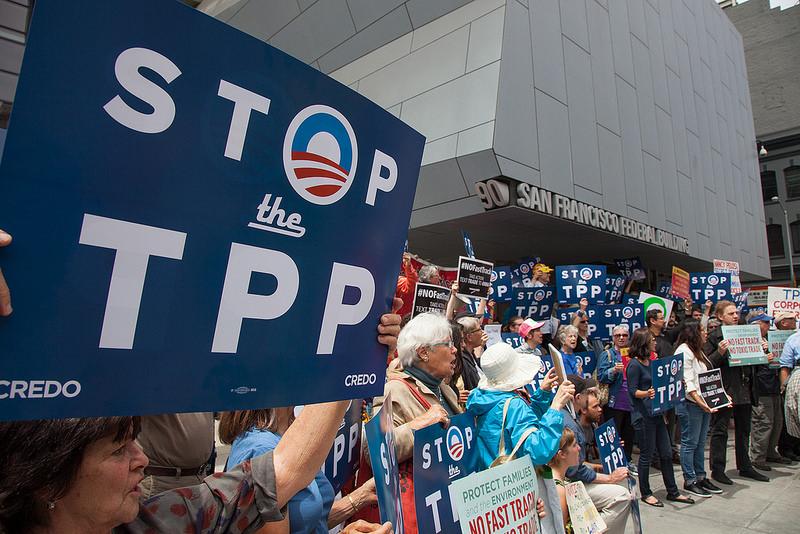 We have heard over and over again from members of Congress how your actions made a huge difference in this debate. Your activism forced the current front runner in the Democratic presidential primary to come out against Fast Track before a key vote in the Senate. Fast Track was supposed to fly through the House and Senate by Memorial Day, but due to your efforts it was delayed by more than a month.
Fast Track is only the first step. And while the skids are now greased in favor of TPP, that doesn't mean we can stop fighting this horrendous trade deal. Your continued activism will once again be crucial to any hope we have of stopping the TPP.
We're not going to sugar-coat this. We told you voting for Fast Track would virtually seal a victory for TPP, and in many ways it has. It was by far our best chance to stop this deal, and while we came close, we lost in the end. That said there are still ways -- though it's an extreme uphill climb -- that we can stop the TPP.
There are a number of ways the TPP could still be stopped in the coming months, and we need to keep up the pressure to ensure that when we see an opening we can pounce on it immediately. Here are a few opportunities that could come up:
Investor-State Dispute Settlement may emerge as a deal-breaker: Sen. Elizabeth Warren has powerfully communicated the threat of a TPP provision called "Investor-State Dispute Settlement." ISDS would undermine U.S. sovereignty by allowing foreign companies to challenge U.S. laws without going into a U.S. court. U.S. taxpayers could be on the hook for millions or even billions of dollars based on the ruling of a non-U.S. arbitration panel. Once the agreement is no longer secret, this provision may be a deal breaker for members of Congress on the right as well as the left.
Another opportunity to fight in the House: Once the deal is finalized by countries that are part of the negotiations and the full text with the ISDS and other controversial provisions have been released to the public, Congress will have to take one final vote on the TPP itself. Fast Track was only approved in the House of Representatives by two votes, so it may be possible to defeat the TPP in the final House vote.
Hillary Clinton's possible opposition to the TPP when the text is final and public: Frontrunning presidential candidate Hillary Clinton's refusal to take a stand on the TPP itself was due to the text not yet being final. Once the text of the agreement is final and public, possible opposition from Hillary Clinton could provide cover for congressional Democrats to vote against the agreement.
Collaboration with global resistance groups and trade unions: There are a number of remaining points of contention among the countries negotiating the TPP, including the degree to which Japan's agricultural markets will be opened up, the length of patent protections for big pharmaceutical companies' new drugs, and Canada's protections of its dairy markets. It remains possible that negotiating countries will fail to reach agreements on these and other parts of the agreement. Working in collaboration with global resistance groups and trade unions could make this more likely to happen.
Our job over the coming months is to continue fighting with everything we've got and take advantage of every possible opening to stop the TPP from being finalized.
Keep up the up fight to stop the TPP.
Thank you for all you do.